Meets Fourth Tuesday of Each Month at McInnis Park Club Restaurant
350 Smith Ranch Road
San Rafael, CA 94903
Social hour starts at 11:00, with lunch at 11:45 am –  Come Early
Sir November 2017 speaker
Brian Sobel – Sobel Communications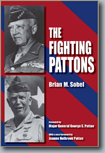 by Brian Sobel 
The Fighting Pattons presents a unique view of a military family with 79 years of continuous service from the punitive action in Mexico in 1916 through Vietnam. The towering figure of General George S. Patton, Jr. had gained legendary status by the end of World War II when Major General George S. Patton began his career and carried the family military tradition into new areas of warfare and geography, both in Korea and Vietnam

.
Little Sir Paul Bell 
2017 Lunch Menu
SIR's Lunch Line
To call-in non-attendance, order an alternative plate or to notify you're bringing a guest/visitor.
Please call by noon of the Thursday before the lunch date..
Call or Text 415-881-7477
E-mail sirbranch47@gmail.com
Luncheon Menu
November 28th
Salad
Baked Ham with honey glaze, potatoes and veg
Alternative: Penne pomodoro Pasta and vegetables
Rolls and butter
Dessert
Note: Price increase to $27