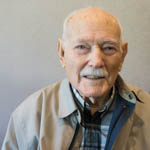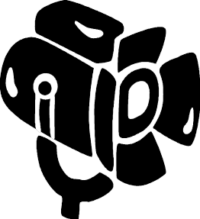 In the Spotlight – Charles Jones
Spotlight on a SIR
Charles Jones
Charles Jones was born on July 30, 1921 at the family home in Frederick, Oklahoma. He left that location when he was very young and relocated in Albany, Texas with his family, where his father had relocated his business. Eventually his family was established in California and Charles attended and graduated from Polytechnic High School in Los Angeles. Charles put in two years of college and then attended other college courses at night while working during the day. He later finished college at the University of New Mexico.
In the interim, in late 1942, he joined the "Army Air Corp Enlisted Reserve." He was called to active duty as an Army Air Corp Cadet and attended the pre-flight school at the Santa Ana Army airfield in Santa Ana, California. The commanding officer swore that it would be the "West Point of the West." After about 6-10 weeks of serious military and academic studies he was transferred to Thunderbird Field near Phoenix, Arizona where he learned to fly the Stearman, a sturdy and very capable plane in aerobatics, which were loved by the cadets.
For basic training in a larger and more powerful craft he was transferred to Minter Field, near Bakersfield. It included navigation and instrument training and more academics.
Finally, he was transferred to Marfa Air Base (formerly an old cavalry outpost), in south Texas for advanced training in heavier, twin-engine aircraft and where he was commissioned 2nd Lieutenant. His wife was present to pin on his new officers bars and the silver wings.
The next very intensive training took place in Roswell, New Mexico with transition to heavy bomber training the B-17, the four-engine Flying Fortress.
The last 10 week training (combat training) was in Dyersburg, Tennessee. His nine man crew was assigned, all of whom were highly trained and fine young men. Three other lieutenants and six privates (all of whom later became sergeants). In early August the whole crew were transferred to Fort Kearny, Nebraska where they were issued a brand new B-17. They took off from Fort Kearny at about 2:00 a.m. He and his crew were put to the task almost immediately as they had to navigate through a huge thunderstorm.
After two stops in New England and one in Newfoundland the next destination was the Azores Islands about 400 miles off the coast of Portugal. From that point there was a long flight to Marrakech, West Africa, then to Tunis, Tunisia. The next stop was in Bari, southern Italy, where they picked up their final and classified orders and combat assignments, the 483rd Heavy Bombardment Group, 840th Squadron. At a later time Charles achieved the rank of Captain and the duties of a Flight Commander, leading seven aircraft.
As the war wore on, the many and accurate anti-aircraft guns accounted for most of the losses, particularly when the skies were almost black with exploding artillery. After one mission the squadron engineer estimated there were approximately 400 holes in his plane.
The unit's area of combat covered most of central Europe, from Greece in the south to Berlin in the north. Targets were factories, railroad centers, oil fields and depots and enemy concentrations, airfields, communication facilities, etc. It was good to know that bombing of civilian areas was discouraged.
It was one of those "almost black" days when Charlie's aircraft received its most serious damage. Charles reported that he had just called is top turret gunner down to check on a run-away propeller. Within two seconds an anti-aircraft explosion knocked out the front half of the turret. It would have taken off the gunner's head. Another piece of the 88 mm shell zipped between their heads (probably 18 inches apart) and wedged into the instrument panel. Another "miracle" occurred on another mission when an 88 mm shell punctured the right wing next to the fuselage and did not explode. An additional emergency occurred during a later mission using 250 pound anti-personnel bombs. The bomb bays were opened, bombs were being activated but none could be dropped. Odds were that the plane would explode. Charles ordered the top turret gunner and Bill Noble, the bombardier, to go into the bomb bay–walking on rails only six inches wide–to pry loose all of the approximately two dozen bombs. Job done within about 20 minutes. Charles requested Distinguished Flying Cross medals for both of those good men. His final two missions were lower altitude in support of the U.S. Army in Italy, about a week before the armistice.
After returning from the war Charles still wanted to fly military aircraft. Reserve units were all but inactive. He admired the California Air National Guard but was told there was a one year waiting list and no more applicants would be accepted.
At this time the Army National Guard was organizing a new Infantry Battalion in Alhambra, near his home. Friends who were members had begged him to join. He finally did and was placed as the Commanding Officer of Headquarters Company. Later, he was moved to S-1, personnel officer. He did a lot of the recruiting and a good bit of the training. The unit was fortunate enough to obtain a good number of WW II Infantry members.
It was not long before North Korea invaded South Korea. His Regiment was one of the first reserve units to be called back to active duty. Jones had recently been promoted to major and later appointed Executive Officer to the Commanding Officer, a very experienced WW II combat veteran.
After a couple of months training in California they shipped out to Japan for more advanced training, then to Korea near the 38th parallel. A few men were lost but the Battalion was quite successful and fought well.
Later, Jones accompanied a few other officers back to Japan to join the First Cavalry Division (now a normal Infantry Division), His first assignment was to the 7th Cav., the Regiment of historic General Custer. He was appointed Division Headquarters Commandant, where he received much information on the working of higher headquarters. He was in this position when the armistice occurred in Korea in 1953.
On return to the U.S., he was assigned for the second time to the Sixth Army Inspector General team at the Presidio in San Francisco. After a few months, over the Chief I.G.'s opposition, he was assigned to the U.S. Army Advisory Group in Iran. It was a two year assignment so his wife (Alice) and youngest son (Brian) were allowed to accompany him. Much travel was involved and much was learned about the Iranian people.
At the end of two years the Army took the unusual step of sending him directly to Vietnam. He had time to select an apartment in Terra Linda for his wife and son. His two other sons were in college at this time.
His assignment in Vietnam was again Headquarters Commandant in the Corps HQ. He was the commander of all troops of all seven units in cases of attack. He again improved the defenses of the post, resulting in a higher degree of safety.
The California National Guard promoted Charles to the rank of Colonel (O-6) in about 1966. The action of the California National Guard and service in at least two other assignments normally reserved for full colonels were the reasons for the Army's decision on rank.
On returning home in 1969 he was delighted to move into a very comfortable home in Terra Linda with his family. He had arranged for his retirement which occurred on September 1, 1969. He dealt in real estate for several years after that.
Charles kept up his flying skills for several years by renting small planes as his main hobby.
He had served twenty-two years on active duty, five in reserve duty, and had a combined total of just under 27 years at retirement.
Charles Jones joined Branch 47 in March 2002 with the sponsorship of Charles Johnson.
Since joining Branch 47 Charles has brought in five new members.
It was an honor and a pleasure to interview Charles Jones and to get a detailed and firsthand account of his honorable service to his country. As with many from the "Greatest Generation", Charles is modest about the heroic and harrowing action that he experience while serving.
Original Draft by Alan Thomas
Final Editing and completed copy by George Brown